Dear Ladies and Gentlemen

SWISSTOOLS is continuously growing, expanding services and constantly developing new products. Therefore, we would like to give an update on our company, services and product lines.


SWISSTOOLS USP

Best-in-class customer service: The company is known for ist very short response time, highest flexibility and reliability. Offers will be created within 24 hours, 8'000 items are on stock, in-stock availability is 95%, items on stock are delivered next day and competent staff is highly committed to support any of your enquiries.

Comprehensive compatibility of boring solutions with other systems: SWISSTOOLS is the only producer of boring solutions, which offers all common interfaces such as BIG KAISER, WOHLHAUPTER, URMA, MBM and even a collet chuck based ECO LINE.

Digital fine boring heads covering broadest diameter range in market: Digital fine boring starts at 0.3mm and goes up to 2.2m in diameter. Solution can be used either digital or analog, a direct measurement system is preventing backlash and you need only one display for all fine boring applications.

We only work with technical resellers: This allows us to concentrate on highest quality, flexibility and customer service whereas you can focus on your end user's needs. Within boring and turning solutions, we offer the broadest range. No matter what interface you need, we have it. In turning PSC, HSK-T,
KM TS and XMZ, in boring BIG KAISER, WOHLHAUPTER, URMA, MBM and collet chuck based ECO LINE.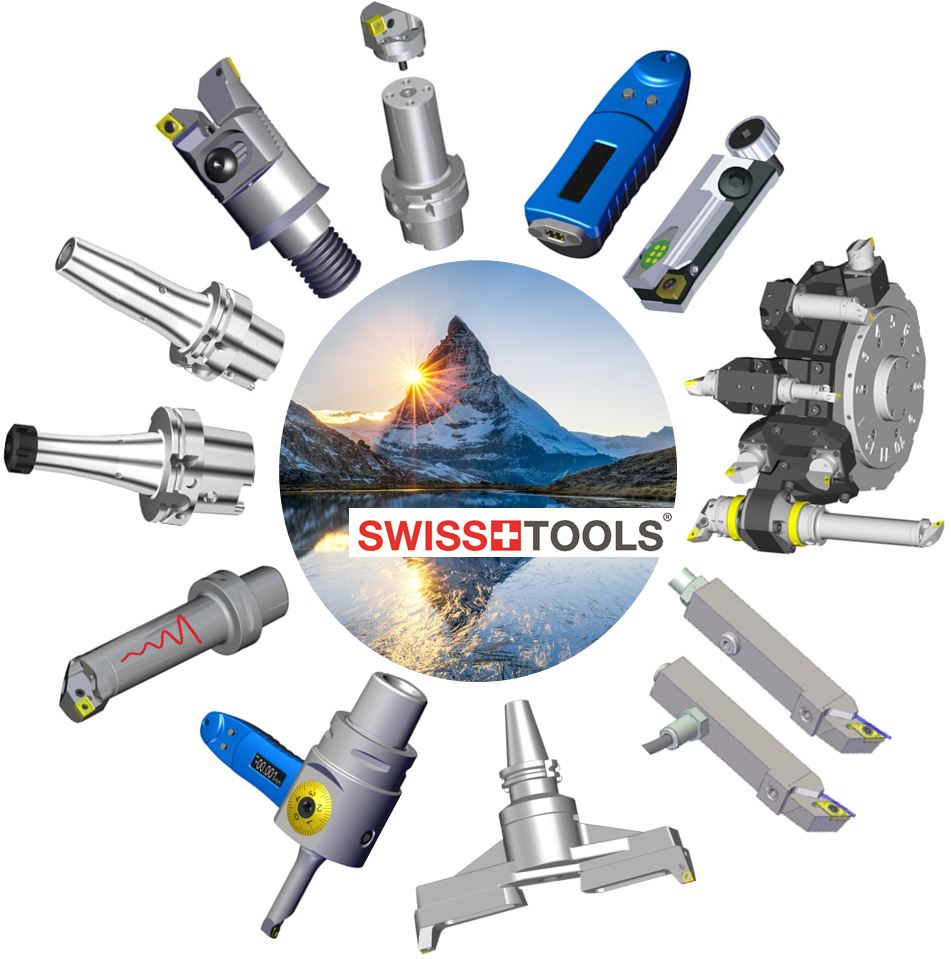 PRODUCT LINES
SWISS MBM
Modular boring system / OEM interface
Catalogue SWISS MBM
SWISS BORE
Modular boring system / Kaiser compatible interface
Catalogue SWISS BORE
SWISS VARIA
Modular boring system / Wohlhaupter compatible interface Catalogue SWISS VARIA
SWISS CAD
Modular boring system / Urma compatible interface Catalogue SWISS CAD
SWISS FLEX
Total tooling system / HSK monobloc Catalogue SWISS FLEX
SWISS PSC
Total tooling system / PSC monobloc Catalogue SWISS PSC
ECOLINE
Boring system Ø 9.75 mm - 650.1mm Catalogue ECOLINE



SWISS KM XMZ
Total tooling system / KM XMZ monobloc Catalogue SWISS KM XMZ
SWISS KM TS
Total tooling system / KM TS monobloc Catalogue SWISS KM TS
SWISS MICRO
For Swiss style lathes with small form factor workpieces Catalogue SWISS MICRO
TOOL SYSTEM "QUICK-CHANGE"
For multi-tasking and turning lathes Catalogue QUICK-CHANGE